Heated seat
Heat seat
Our heated seats can be installed in nearly any vehicle with cloth(1) or leather interior.
The heated seats include high and low settings and an illuminated rocker switch.
The rocker switches are typically mounted on the side of the seat, or can be installed in a place of your choosing such as a center console or on the dash board of your vehicle.





::
::
::
::
::




{1}


(1) The following vehicles (with FACTORY CLOTH) have glued fabric seat covers, making them difficult to be fitted with aftermarket heated seats:
Chevrolet Cavalier
Chrysler Town & Country
Dodge Caravan
Honda Fit
Mini Cooper
Toyota Echo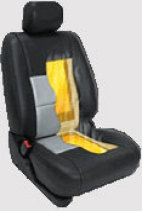 ::
03-01-17